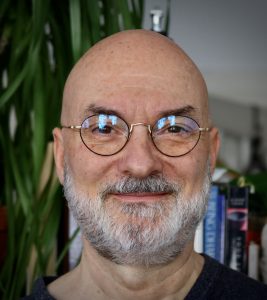 Born in Berne (CH) and raised in Swiss-German; schools and professional training in the same place. After early intuitions sparked my interest in meditation as a teenager, I came across Buddhist instructions via contemplative exercises in a Christian context and Aikido. Learned to sit still in the Soto Zen traditions in Switzerland, Italy and France. First Vipassana retreats in the insight meditation movement. From the mid-1980s onwards I lived in the monasteries of Ajahn Chah's communities in England and after two years as a novice, I became a monk (bhikkhu) in the forest tradition of the Theravāda lineage at Chithurst, (GB) under Ajahn Sumedho's tutelage .
The following years were devoted to contemplative training and communal practice in the English-speaking monasteries of the Ajahn Chah lineage. The training continued with a different emphasis after a move to Thailand (1992) and several years of language and Sutta studies with Bhikkhu Payutto (now Somdet Buddhaghosajahn). I enjoyed the privileges of a double life: long periods of practice in forest monasteries (mostly those of Ajahn Chah's disciples) alternated with periods of study with Bhikkhu Payutto. Besides my commitment to the monastic communities, meditation practice and Buddhist studies, I was continuously engaged in understanding Western and Buddhist psychology and their roles in contemplative life.
1998 brought a return to the West: I experienced formative years in Dhammapala Monastery's small community in Switzerland. Monastic and extensive extramural meditation and Dharma teaching. Explicit training in Buddhist psychotherapy and Focusing in England as of 2001.
In spring 2005, after 20 years of monastic life, I left the monastic fold and lifestyle. Since then I have been teaching as an independent meditation and Dharma teacher in Europe and overseas; as of 2010, I've been running a private psychotherapeutic practice.
My psychotherapeutic training took place at the Karuna Institute, (Devon, UK); I am an accredited member of the English professional associations for psychotherapists (UKCP) and for Core Process Psychotherapy (ACPP) and have an M.A. in Mindfulness-Based Psychotherapy Practice (Middlesex University, London).
Around 2012 I started Atammaya Cologne and in 2015 co-founded Bodhi College for whose programmes and trainings I'm a regular teacher. My wife and I live in Germany's Rhineland area.